FAQ
General questions
1. Will the game work on my cell phone?
Efficiency of the game is checked on the testing stage of development process on the most commonly used cell phone models. Having downloaded the game free of charge, you can check it on your cell phone and make sure that it is efficient (the game will work in demonstrative mode).
2. What requirements should a cell phone meet to start up your games?
To start up our games you need your cell phone to support Java applications ? specification MIDP1.0 and higher.
To play a game via our Internet-server a cell phone must support any Internet connecting standard (CDMA, GPRS, GSM, UMTS etc.)
If you want to play game not using Internet connection you need your cell phone to support Bluetooth (game is available within 10-20 meters).

3. In what way does the information exchange between cell phones via Internet ?
The exchange of information between cell phones via Internet takes place by means of connecting each cell phone with our Internet-server. Basically the mechanism of information exchange can be presented as 3-level scheme: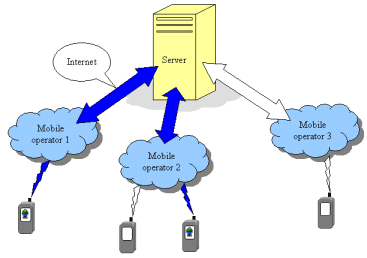 Each cell phone exchanges data with Internet-server via its mobile operator. The server determines who?s sent the information and whom this information should be delivered. Communication of a cell phone and the server occurs through a standard HTTP-Protocol. This provides efficiency of exchange mechanism showed above, irrespectively of cell phone model and communication standard of mobile operator. As the scheme shows, any cell phone from any country in the world can get into contact with another cell phone if both of them have Internet access. Take into account that you pay only for Internet access you get from your mobile operator, regardless of mobile operator and country of cell phone you want to communicate. This mechanism of exchange enables you to vary the speed of server poll, so you can either speed up (accelerate) the time of exchange or reduce the size of information transferred and thus cut down the charges for using Internet among some mobile operators.

4. How can I set up Internet connection on my cell phone?
You should act as follows:
Activate the service of Internet access (ask your mobile operator to activate the corresponding service of Internet access on your cell phone)
Set the parameters of cell phone connection with Internet following the cell phone documentation and operator?s explanations.
Connect your cell phone with Internet-server for on-line game you need the game parameter ?Server?s URL? on your cell phone to have correct address of game server http://www.avacs.net.

5. Why my cell phone asks to allow web access each time I want to play game via Internet or Bluetooth?
Usually cell phone asks once to allow web access at the beginning of the game going via Internet or Bluetooth. If you want it not to ask about the allowance of web access you should choose the option ?Allowed? in the settings of your cell phone. You can find more details about setting connection to Internet or BlueTooth in the documentation to your cell phone.

6. What should I do if the program causes error?
Reset your cell phone and try to reproduce the situation, after which your cell phone?s issued error. If this error repeated ? please send a letter to our support service support@avacs.net and state your cell phone model, the game and place where error appeared, and error description or error code.